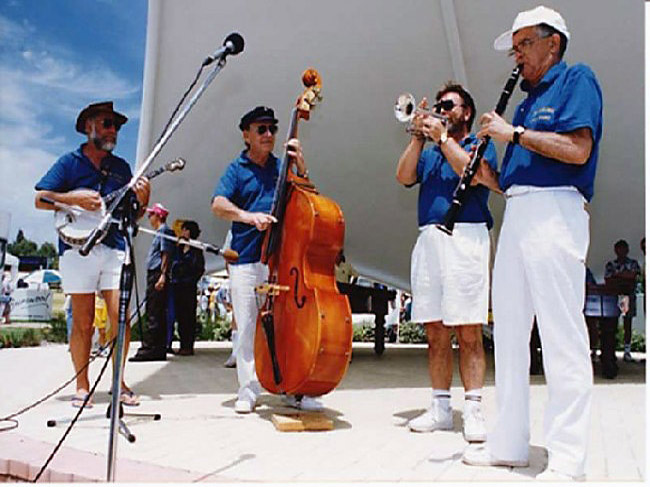 Ozvučení malé kapely, muzikantů a "pouštěčů"
Jste muzikant – klávesák, pouštěč, který potřebuje lehký, skladný, ale zato výkonný aparát? Pak právě Vám doporučujeme použít dva pasivní satelitní boxy BC 1000 na hliníkových stojanech a k tomu výkonový mixážní pult PMS 410, který zastoupí také zesilovač. Vše v pohodě naskládáte do kufru Vašeho auta.
Výkonově vystačíte na běžné menší plesy, barová hraní atd., samozřejmě, že můžete napojit třeba kytaru a nějaký ten mikrofon opět do výkonového mixážního pultu PMS 410, který je tak vaši "centrálou". Sestava je doplněna kabely a dalšími potřebnými zdroji signálu.
Jedete-li na větší hraní a chcete-li více basů, pak použijte jako rozšíření aktivní subwoofer BCW 1500A a ten signálově napojíte na výkonový mixážní pult. Basová aktivní výhybka je součástí subwooferu.
I tyto systémy, český výrobce DEXON, navrhuje a nabízí. Pro zpracování návrhu ozvučení doporučujeme kontaktovat Dexon Czech s.r.o. na jejich stránkách www.dexon.cz nebo na tel. 596 321 160. Tento český výrobce posoudí ozvučovaný prostor a kompletně navrhne dané ozvučení zcela zdarma.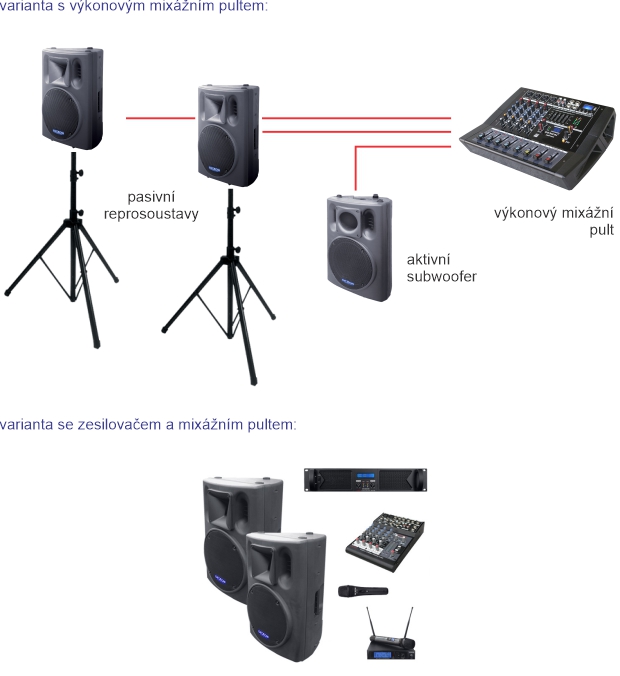 Do you want to accurate this set or to make a price offer?
Our referencies with similar sound system
| | | Date | Amount |
| --- | --- | --- | --- |
| Taneční studio (Praha - Vršovice) | Ozvučení několika prostor, vč. mikrofonů a přehrávačů | 8/2016 | 170 500 Kč |
| Kulturní a společenský klub (Hradec Králové) | Evakuační rozhlas vč. reproduktorů | 9/2016 | 181 800 Kč |
| Ozvučení Arény Karviná (Karviná) | Výkonné ozvučení prosotr hudebního klubu vč. buzení | 6/2015 | 268 060 Kč |
| Jezdecký klub (Liberec) | Reentrantní rerpoduktory a rozhlas. ústředna | 10/2014 | 87 000 Kč |
| Ozvučení tanečních sálů v ZŠ (Liberec) | Výkonové ozvučení prof. reprosoustavami a zesilovači | 7/2014 | 89 000 Kč |