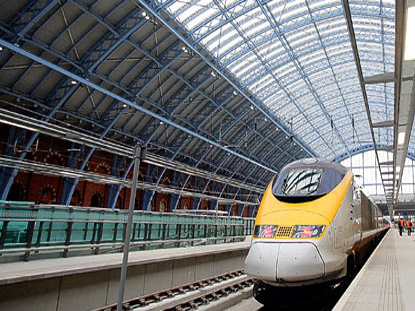 Ozvučení nádrážní budovy nebo čekárny a nástupiště
Ozvučení míst s veřejnou dopravou patří spíše k těm jednodušším.
Jako jediný zdroj signálu se používá pultíkový mikrofon PA 570, který je přímo napojen na rozhlasovou ústřednu, tak pak přímo budí, např. ve dvou zónách, reproduktory. Její výkon je závislý na počtu reproduktorů. Komfort nemusí být velký a tak i postačí model JPA 1185 nebo JPA 1035.
Na nástupišti volíme hustotu reproduktorů projekčních nebo reentrantních co cca 5 m, v čekárně obvykle instalujeme sloupové reproduktory do rohů místnosti. Ve větších čekárnách je dokonce v každém rohu několik reprosoustav postupně nasměrovaných.
Kabeláž je provedena dostatečným průřezem, doporučujeme 2,5 mm². Při ozvučení nástupišť a čekáren nezapomínáme na ozvučení samotných přepážek. Za tímto účelem doporučujeme model WA 200RC, což je právě interkom pro přepážky. O ozvučení přepážek se dozvíte v dalším návrhu ozvučení.
I tyto systémy, český výrobce DEXON, navrhuje a nabízí. Pro zpracování návrhu ozvučení doporučujeme kontaktovat Dexon Czech s.r.o. na jejich stránkách www.dexon.cz nebo na tel. 596 321 160. Tento český výrobce posoudí ozvučovaný prostor a kompletně navrhne dané ozvučení zcela zdarma.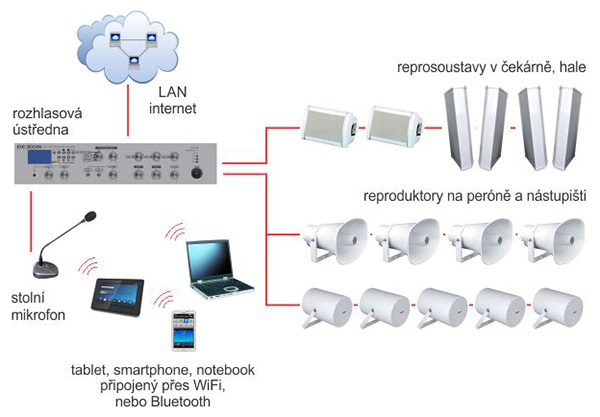 Do you want to accurate this set or to make a price offer?
Our referencies with similar sound system
| | | Date | Amount |
| --- | --- | --- | --- |
| Zdravotní ordinace s čekárnami (Brno) | Vyvolávací systém s podkresem vč. mikrofonů a reprod. | 1/2019 | 82 400 Kč |
| Vlakové soupravy (Praha) | Malá rozhlasová ústředna a reproduktory | 10/2013 | 82 000 Kč |