JDM 50 module of audio memory with amplifier
Brief description: autoplay messages based on the switching contacts, audiomodule with 7 Mp3 any lenght messages on SD card, amplifier 25 W / 8 Ω, line input and output, adjustable levels and volume, output for speaker
Suitable for: autorun of messages or music in industry, information kiosks, markets, automats, machines, sights, entertainment industry etc.
Cat. nr.: 27 834
394,16 € with VAT
in stock
Description
Jelikož se nám množí požadavky na instalace sampleru za účelem spouštění hlášek jako reakce na určitý stav, rozhodli jsme se vyvinout zařízení JDM 50. Tento produkt nabízí klasickou funkcí přehrávače některé ze 7 hlášek, které se aktivuje daným spínacím kontaktem. Hlášky jsou uloženy jako Mp3 soubory na SD kartě a jejich maximální velikost je pouze dána kapacitou paměťové karty. V tomto zařízení není řešeno jen přehrávání, ale také i zdrojová část a zesílení. Z tohoto výrobku tak můžete rovnou napojit reproduktor.
JDM 50 je určen k vestavbě na DIN lištu do rozváděče, kde přivedeme jak vodiče od spínacích kontaktů, tak vodiče s napájením a výstup na reproduktor. Taktéž můžeme zavést či vyvést další audio signál. Samotný modul se nijak neobsluhuje a je určen pro dlouhodobý provoz bez zásahu.
Díky kombinaci "přehrávač mp3 hlášek – zesilovač" se JDM 50 stává velice univerzálním. Použití může být v průmyslu, kde bude reagovat na povely obsluhy či samotné výrobní technologie, dále např. v informačních kioscích, kde si uživatel – turista vybírá příslušné "povídání" stiskem daného tlačítka, ale také v zábavním průmyslu kde spínací kontakty vyvolávají ruchy nebo hudbu, ať už z nadřazeného el. systému nebo z připojených detektorů pohybu.
vestavěná audiopaměť pro 7 hlášek ve formě SD karty se 7 mp3 soubory
délka hlášek je omezena pouze kapacitou paměťové SD karty, hlášky mohou být tedy i velice dlouhé
7 logických vstupů pro spínací kontakty (např. tlačítka), vyvedeno na konektor RJ 45
sepnutím daného vstupu se jedenkrát přehraje daná hláška
opětovné sepnutí vstupu nemá vliv na již probíhající přehrávání. Znamená to, že přehrávání se nijak neukončí a ani není tvořena žádná fronta požadavků přehrávání
výkon vestavěného zesilovače 25 W
výstup pro připojení reproduktoru, impedance min. 8 Ω
nastavení úrovně hlasitosti reproduktoru trimrem
linkový vstup konektorem RCA (Cinch) pro přimíchání dalšího audio signálu do výstupního zesilovače
citlivost linkového vstupu 350 mV ef.
nastavení citlivosti linkového vstupu trimrem
linkový výstup konektorem RCA (Cinch) např. pro napojení externího zesilovače
úroveň výstupu 0 dBu (1,55 V ef.)
nastavení úrovně linkového výstupu trimrem
konektory pro reproduktor a napájení řešeny jako násuvná šroubovací svorkovnice
SD karta je součástí balení
doporučená instalace do rozváděče na DIN lištu
napájení AC 230 V / 50 Hz
příkon max. 30 VA
pracovní teplota –25 – +40 °C
pracovní relativní vlhkost max. 98 %
rozměry 219×93×56 mm
hmotnost 0,8 kg
Accessories recomended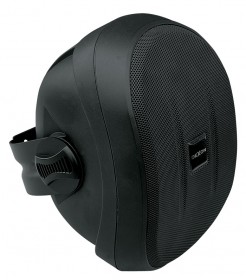 40 / 70 W, 8 Ω, 87 dB, 75 – 20 000 Hz,handle, 4″ polypropylene woofer, 20 mm textille dome tweeter
Suitable for: wall installation in the interior, for sounding comercial places, restaurnts, bars, offices, administrative places, hotels
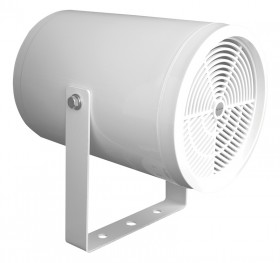 20 W / 100 V, 94 dB, 100 – 16 000 Hz
Suitable for: sounding passages, warehouses, protected exterior
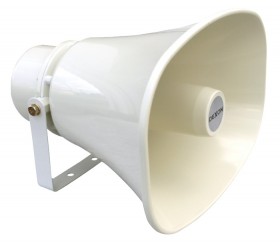 30 W / 100 V, 250 – 14 000 Hz, 109 dB
Suitable for: sounding warehouse, production, car parks, playgrounds, exteriors, town sound system, long area
