MRP 2171 on-wall player with amplifier
Brief description: 2×17 W class-D stereo amplifier, FM tuner, MP3 player from USB and SD, Bluetooth, EQ, 2× AUX input, big display, power supply from 230 V, IR remote control, sleek compact performance "all in one" in shape of light switch
Suitable for: sound bathrooms, rooms, patios, gazebo, offices as well as the sound source and signal amplification
Cat. nr.: 27 929
155,83 € with VAT
in stock
Description
MRP 2171 je nástupcem staršího modelu 2170. Změnili jsme vzhled na modernější, naprogramovali nový firmware a ještě více vylepšili citlivost FM tuneru. Do tohoto modelu jsme opět vestavěli stereo zesilovač ve třídě D o výkonu 17 W, FM tuner, Bluetooth konektivitu pro snadné přehrávání ze smartphonu nebo tabletu a Mp3 přehrávač, jež čte soubory z USB slotu nebo SD karty. Uživatel tak získává nevídaný komfort přehrávače a zesilovače v jednom. To vše ještě umocňuje IR dálkové ovládání.
Rozměry přehrávače jsou kompaktní a design nijak interiér neruší. Proto se instalace doporučuje poblíž vypínačů osvětlení – na snadně dostupném místě. Je tak konec se složitým napojováním na hifi věže a receivery. Stačí připojit k napájení 230 V a "odejít" kabeláží na reproduktory.
Přehrávač se zesilovačem MRP 2171 využijete spolu s podhledovými nebo nástěnnými reproduktory Dexon např. pro ozvučení koupelny nebo terasy, jelikož je vlhkuodolný, ale také do "běžných" míst jako jsou pokoje, a kanceláře.
vestavěný stereo zesilovač 2× 17 W
zatěžovací impedance 2× 8 Ω
zesilovač ve třídě D s vysokou účinností 85 %
výkonový výstup na 2 reproduktory přes šroubovací svorkovnici
vestavěný digitální přehrávač Mp3 souborů z USB a slotu pro paměťovou mikro SD kartu s podporou kapacity až 32 GB a formátů mp3, wma a wav
USB a slot pro paměťovou kartu se nachází na spodní hraně předního rámečku
vestavěný Bluetooth receiver, pro snadné přehrávání z chytrého telefonu nebo tabletu
bohaté nastavení přehrávače, volba opakování, převíjení, přímé zadání čísla skladby atd.
indikace spárování s Bluetooth vysílacím zařízením
dosah Bluetooth spojení cca 10 m
verze Bluetooth 2.1 + EDR
vestavěný softwarový equalizér se čtyřmi presety
vestavěný FM tuner
20 paměťových míst FM tuneru
funkce manuálního nalazení nebo rychlého nalazení a uložení stanic tuneru
2 vstupy AUX pro připojení dalšího zdroje hudby, např. jiného lokální zdroje hudby z vedlejšího pokoje
nastavitelná citlivost AUX vstupů 500 mV nebo 1 V, vst. impedance 10 kΩ
vypínač pro celkové vypnutí z napájení na spodní hraně předního rámečku
velký přehledný podsvětlený LCD displej o rozměru 57×21 mm
digitální nastavení výstupní hlasitosti
přehledná indikace nastavení hlasitosti, paměťových míst i čísel skladeb
IR dálkové ovládání
dosah IR dálkového ovládání 10 m
drátová anténa pro příjem FM, která je skryta v instalaci v příčce, nebo stěně
vstup pro anténní koaxiál 75 Ω – středový vodič. Tím že je přehrávač instalovaný v příčce, dochází k podstatnému útlumu rádiového FM signálu. Aby bylo možné ladit a poslouchat FM rozhlasové stanice, je potřeba připojit kvalitní anténní signál.
výstupní ochrany proti zkratu, nadměrnému zatížení nebo přehřátí
frekvenční rozsah 20 – 20 000 Hz / – 3 dB
zkreslení THD < 0,03 % / 1 kHz
odstup S/N > 81 dB
napájení přímo AC 230 V / 50 Hz přes šroubovací svorkovnici (pevný přívod v instalaci v příčce, nebo stěně)
standby režim šetřící el. energii
kompaktní elegantní provedení, v kterém získáváte jak zesílení tak i zdroj signálu
bílá barva
vlhkuodolné provedení
intuitivní ovládaní snadné na obsluhu
doporučujeme instalovat poblíž vypínačů osvětlení místnosti
doporučujeme kombinovat s ozvučením pomocí 2 podhledových reproduktorů Dexon RP xxx nebo 2 nástěnných reproduktorů Dexon SP xxx v nízkoimpedančním režimu (ne se 100V transformátorem)
vhodné pro ozvučení koupelny, altánku, pokoje
potřebná kabeláž: napájení, 2× reproduktory, audio pro AUX1 a AUX2, anténní koaxiál
balení obsahuje spec. instalační krabici
nelze instalovat do běžných instalačních krabic, např. KU 68
stupeň krytí IP 52
snadná instalace pomocí šroubků, které jsou součástí balení
vnější rozměry instalační krabice 86×86×40 mm
rozměry čelního rámečku 86×86 mm
zastavěná hloubka samotného přehrávače 29 mm
celková hloubka 38 mm
hmotnost 0,2 kg
Výhody oproti konkurenci
kupujete od skutečného profesionálního výrobce, který se plošným, instalačním ozvučením zabývá více jak 20 let a tak ví, jaká je praxe a nároky
nabízíme vyšší výkon. Konkurence nabízí obvykle jen výkon okolo 10–15 W, s kterým stěží vybudíte běžné ozvučení.
nabízíme stereo. Konkurence jen mono.
umíme 2× plánovat, umíme číst z SD karty
náš přehrávač umí poslouchat 2× AUX vstup
větší a tudíž i čitelnější LCD displej
kompaktní provedení, které připomíná vypínač, a tak ladí s okolními vypínači na osvětlení. Konkurenční výrobky jsou obrovské, nevzhledné a vůbec s interiérem neladí.
napájení je provedeno rovnou z 230 V. Konkurenční výrobky jsou napájeny z 12 V a tak řešíte, kde 12V zdroj vůbec umístit, aby nepřekážel a byl bezpečný.
bezpečnost. Připojení napájení a reproduktorů je provedeno v příčce nebo stěně, kde lidská ruka nemůže. Navíc ovládací tlačítka na čelním panelu jsou pod nízkým napětím jen okolo 1 V.
robustnost. Naše zařízení je vlhkuodolné.
vše v jednom. Konkurenční výrobky jsou obvykle jen zesilovače, ke kterým musíte dovést audio signál, anebo se jedná o poloprofesionální konstrukce typu "předělané autorádio". U nás máte vše pohromadě, včetně několika zdrojů signálu a hlavně včetně jednoduchého napájení. Nechybí ani možnost dopojit přes Bluetooth mobilní telefon nebo tablet.
minimum práce s instalací. Dodáváme i instalační krabici. Neřešíte žádné držáky ani složité vedení vodičů.
žádná amatérská konstrukce typu vestavěné autorádio, ale propracované přístrojové řešení
přístroj je určen pro dlouhodobé non-stop užívání, tedy ne receiver či hifi věž na nerázový provoz s nízkou výdrží
slušný komfort obsluhy
moderní obvodová koncepce
srozumitelné ovládání, které zvládne i laik, nepotřebujete složité zaškolení
"blbuvzdorné" provedení, špatné nastavení nezpůsobí poškození nebo zablokování přehrávače
kompatibilita s reproduktory Dexon. Máme odzkoušeno, že zvuk je za jejich použití výborný.
jsou splněny všechny normativní požadavky pro označení CE
Accessories recomended
Product recommendation according to project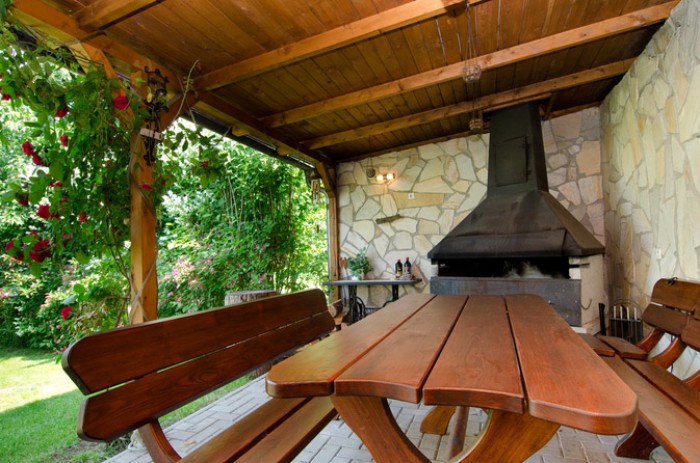 Zvláště na začátku letních měsíců, řeší majitel svého obydlí, jak ozvučit venkovní posezení.