2× BC 800A + MBD 830 + MD 505 speakers set with microphones
Brief description: two active speakers, 2×120W / 113 dB, microphone, wireless hand microphone, stands and cabling
Suitable for: sounding bands, musicians, music clubs, restaurants, conference and speaker applications
Cat. nr.: 17 927
699,32 € with VAT
in stock
Description
Sestava obsahuje 2 ks aktivních reprosoustav BC 800A, 2 ks stojanů – trojnožek Kat. č.: 12 448, 2 příruby Ø 35 #1 Kat. č.: 12 399 pro uchycení reprosoustav na stojany, ruční mikrofon MD 505 s kabelem a protivětrnou ochranou, ruční bezdrátový mikrofon MBD 830 s 5 m kabelem pro napojení na reprosoustavy a 10 m XLR / XLR kabel k propojení reprosoustav mezi sebou.
Na aktivní reprosoustavy připojujete bezdrátový nebo klasický mikrofon. Sestava se dá rozšířit o malý mixážní pult, který umožní napojení dalších zdrojů signálu, např. podkresové hudby. Sestava je velice vhodná pro malé řečnické aplikace.
BC 800A aktivní reprosoustavy
Moderní reprosoustavy řady BC jsou vyráběny v rozsahu od 8" do 15" velikosti basového reproduktoru, existují v aktivní (BC 800A, BC 1000A, BC 1200A, BC 1500A) nebo v pasivní verzi ( BC 800, BC 1000, BC 1200, BC 1500) a jsou doplněny subwoofery (BCW 1500, BCW 1200A, BCW 1500A) a subwoofery s výstupy na pasivní satelity (BCW 1501A, BCW 1201A).
Výbava reprosoustavy
Jejich hlavní předností je opravdu velmi robustní plastová ozvuč-nice černé barvy doplněná výztuhami, jež je osazena kvalitními reproduktory s vysokou citlivostí (ty jsou navíc vlhkuodolné) v kombinaci s 1" nebo 2" elektrodynamickým driverem s vestavěným zvukovodem. Na spodní, popř. horní straně reprosousta-vy se nachází protikus pro stojan s kovovým středem, pohodlné madlo je součástí ozvučnice, stejně jako nožky na horní i spodní straně, to proto, aby se reprosoustavy daly stohovat na sebe. Basový reproduktor je chráněn kovovou mřížkou a výškový driver má demontovatelný zvukovod – podle potřeby ozvučování si jej můžete otočit, čímž otočíte i směrovou charakteristiku. Bassrefle-xové nátrubky jsou z přední strany výrazně zaobleny. Celá ozvuč-nice je rozebíratelná.
Výbava zesilovače
Na zadní straně pasivní verze je terminál s dvěma konektory Speacon a typovým štítkem. U aktivní verze zde nalezneme blok aktivního zesilovače, který je dvoukanálový a budí basový i výškový reproduktor zvlášť a používá tak aktivního dělení pásem. Tato vlastnost je tak skvěle využita k velmi výbornému sladění repro-soustavy, což dokazuje i velmi dobrý zvuk. Zesilovač, kterým jsou aktivní verze buzeny, disponuje dále nastavením celkové hlasitosti, jakož i nastavení dílčích hlasitostí pro výškový a pro basový reproduktor, to nám připomíná vlastně frekvenční korektor. Vstup, který je možné provést jedním z konektorů XLR je přepínatelný mezi linkovou a mikrofonní úrovní. Součástí zesilovače je i vestavěný limiter, jeho funkce je opět na zadním panelu indikována, stejně jako zapnutí reprosoustavy.
Instalace
Jak ukazujeme dále, náš sortiment zahrnuje řadu kovových prvků pro instalaci reprosoustavy. Nejprve za zmínku stojí to co je výbavou – speciální nožky, které z reprosoustavy vytvoří odposlech naležato (jen u některých modelů). Dále reprosoustavy od modelu BC 1000(A) výše jsou vybaveny hnízdem pro stojan a tak repro-soustavu můžete u mobilních aplikací umístit na trojnožku nebo na tyč vsazenou do subwooferu. Malý model BC 800 lze také umístit na trojnožku (35 cm) a to pomocí speciální příruby na stojan. Pro pevné instalace najdete v našem sortimentu, mimo jiné, velmi oblíbený robustní kloubový držák #7, který umožňuje reprosousta-vu naklánět a natáčet, jakoby by byla umístěna na trojnožce.
Praxe, zvuk
Z dlouhodobé praxe, kdy reprosoustavy prodáváme, můžeme konstatovat, že naši zákazníci, což jsou muzikanti, majitelé konferenčních sálů, zvukaři a další, především oceňují velmi kvalitní a robustní zpracování celé reprosoustavy, které v dané cenové kategorii nemají konkurenci. Doporučujeme na našem webu shlédnout několik nezávislých recenzí, které popisují zvuk jako velmi hutný, příjemný a hlavně prakticky použitelný.
nastavitelná směrovka zvukovodu jeho otočením
až 44 mm driver s Ti kalotou a FET ochranou
basový reproduktor s litým košem
robustní ochranný grill
stohovací nožky
2× XLR vstupy anebo 2× Speacon vstupy u pasivních verzi
robustní vyztužená ozvučnice
basový reproduktor 1 × 8"
výškový reproduktor driver 25 mm
výkon rms./max. 120 / 200 W
výšk. směrovost 90° × 60°
max. akust. tlak 113 dB / 1m
frekvenční rozsah / –10 dB 60 – 20 000 Hz
frekvenční rozsah / –3 dB 65 – 18 000 Hz
rozsah regulace hlasitosti 2 × ± 10 dB
harmonické zkreslení 0,02 %/line 0,04%/mic
vst. impedance 20 kΩ/line, 10kΩ/mic
rozměry 277 × 400 × 257 mm
hmotnost 8,6 kg
MD 505 mikrofon
Nový elektrodynamický mikrofon DEXON MD 505 patří mezi profesionální modely. Je vybaveny výborným akustickým systémem a kvalitní vložkou, které spolu s vypínačem s tichým chodem, a to jak z pohledu elektrického, tak i z pohledu mechanického, tvoří kvalitní prostředek snímání zvuku.
Špičková zvuková kvalita je založena na vyrovnané kmitočtové charakteristice s mírným zvýrazněním vyšších kmitočtů, jež přispívá k čitelnosti zvláště mluveného slova, a na vyhlazené kardioidní směrové charakteristice. Zvuková kvalita u této řady mikrofonů Dexon je doplněna o komfort XLR / XLR symetrického kabelu a plastového transportní krabice s citlivým uložením mikrofonu. Mikrofony jsou vhodné pro řeč i zpěv.
frekvenční rozsah 50 – 16 000 Hz
citlivost – 52 dB ± 3 dB / 1V / Pa
výstupní impedance 600 Ω / 1 kHz
kovové tělo tubusu
vypínač s velmi tichým chodem
kardioidní směrová charakteristika
plastový kufřík s měkkým uložením
kabel XLR / XLR sym.
rozměry Ø 48×186 mm
hmotnost 230 g
MBD 830 bezdrátový mikrofon ruční
Jednokanálový bezdrátový systém MBD 830 obsahuje přijímač a 1 ruční mikrofon. MBD 930 obsahuje přijímač, 1 vysílač za opasek, 1 náhlavní mikrofon a 1 klopový mikrofon. Uživatel volí, zda používá náhlavní, nebo klopový mikrofon.
Využívá se rádiového přenosu v moderním pásmu UHF, které poskytuje daleko lepší příjmové podmínky, než zastaralé pásmo VHF. Ke kvalitnímu přenosu se využívá diverzitního (dvoutunerového) přijímače, modulace FM (F3E) a kompanderu. Elektronika přijímače je plně symetrická a zahrnuje navíc nesymetrický i symetrický výstup, a šumovou bránu. Novinkou, oproti starším jednokanálovým systémům s fixní frekvencí, je možnost ladění bezdrátových mikrofonů, přičemž na výběr máme 16 frekvencí. Dále můžeme nastavovat vysílací výkon, chování šumové brány a velikost výstupního audio signálu.
Bezdrátové mikrofony jsou v souladu s všeobecným oprávněním VO-R/10/09.2010–11 ČTÚ a jsou laděny výhradně na povolených frekvenčních pásmech ČTÚ.
přijímač:
diverzitní UHF tuner, 1 kanál, PLL
MBD 830 obsahuje přijímač a 1 ruční mikrofon
MBD 930 obsahuje přijímač, 1 vysílač za opasek, 1 náhlavní mikrofon a 1 klopový mikrofon. Uživatel volí, zda používá náhlavní, nebo klopový mikrofon.
indikace fungování tuneru A nebo B, indikace příjmu audio signálu
patentovaný design předního panelu
regulace úrovně výstupní hlasitosti
přepínač nalazené frekvence – volba z 16 frekvencí
kompresor, expander, šumová brána
technologie ACR (Audio Reference Companding) pro další vyepšení zvuku a jeho odstupu od rušení
2 nastavitelné antény
sym. výstup konektorem XLR a nesym. výstup konektorem Jack 6,3
výstupní úroveň 350 mV ef. / nesym, ± 170 mV ef. / sym. 2,2 kΩ
možnost nastavení SQUELCH příjmových podmínek uvnitř přijímače
využívá frekvenční pásmo 750 – 780 MHz, pro manuální nalazení je k dispozici až 16 frekv. kanálů. Tím odpadají problémy s výběrem dokupovaných vysílačů a se sestavováním složitějších kombinací pohromadě. Taktéž na vysílačích (ručních mikrofonech nebo vysílačích za opasek) se nastavuje 1 z 16 možných frekvencí. Toto nastavení zle provést manuálně miniaturním přepínačem.
přímo v souladu s všeobecným oprávněním VO-R/10/09.2010–11 ČTÚ
šířka pásma < 200 kHz
frekvenční rozsah audio 40 – 18 000 Hz
frekvenční stabilita ± 0,005%
vstupní citlivost tuneru < 2 μV
FM (F3E) modulace
zkreslení THD < 0,5 %
dynamika > 110 dB
odstup S/N > 90 dB
napájení adaptérem (je součástí) DC 14 – 22 V / 0,5 A
včetně transportního kovového kufru
propojovací kabel XLR / XLR součástí
rozměry 207×44×185 mm
hmotnost 0,47 kg
vysílač – ruční mikrofon:
elektrodynamická vložka s kardioidní charakteristikou
vypínač
LED indikace zapnutí / skoro vybité baterie
skrytý přepínač pro volbu frekvence z 16 možných
skrytý přepínač pro volby vyzářeného výkonu
dosah cca. 100 m ve volném prostoru bez překážek
vyzářený výkon 5 / 10 mW
frekvenční rozsah audio 60 – 15 000 Hz
zkreslení THD < 0,5 %
dynamika > 110 dB
odstup S/N > 90 dB
napájení 2× AA 1,5 V tužkové baterie, doba trvalého provozu cca 6 h
rozměry Ø 50×242 mm
hmotnost 0,33 kg
Výhody oproti konkurenci
kupujete od skutečného profesionálního výrobce, který se reprosoustavám věnuje více jak 20 let
kvalitní provedení pasivní i aktivní verze, žádné čínské poloprofi
kompaktní provedení, snadné na převoz a manipulaci
rychlé zapojení i pro laika, nepotřebujete zvukaře
ozvučnice s tuhou, robustní konstrukcí, žádná tenká DTD, nic nedrnčí
kvalitní zatlumení ozvučnice, ne prázdná dunící skříň
tvar umožňující použít reprosoustavu i jako odposlech
kvalitní tlakový výškový reproduktor, popř. driver a zvukovod
poctivě provedený basový reproduktor, který zahraje skutečné basy, nic nemaskuje
skutečně odměřený příkon dle standardu RMS IEC 268–5, žádná přemrštěná hodnota
dobrá citlivost, navíc udávaná po zahřátí reprosoustavy, ne za studena
kvalitně provedené připojovací rozhraní, ne jenom šroubovací svorky
sofistikovaná ochrana výškového reproduktoru
u aktivní verze řada obvodových vychytávek (limiter, subsonic…), ne jenom zesilovací modul
u aktivní verze kvalitně provedené chlazení
reprosoustavám je velice dobře rozumět a jejich přednes je čitelný při tiché i hlasité reprodukci
velmi dobré chování limiteru při přebuzení, není slyšet zkreslení
univerzální směrovost, driver se dá natočit a tak reprosoustava může hodně směrovat anebo ozvučovat do šířky. S tím souvisí i malé vazbení mikrofonu.
univerzální charakter zvuku mikrofonu, bez zbytečné presence
nízká náchylnost ke zpětné vazbě
nabízíme kompletní mikrofonovou sadu za konečnou cenu, už nemusíte nic dokupovat, nic vás v nákupu nepřekvapí
kvalitně provedené přijímací tunery v pásmu UHF, ne obyčejné VHF
výborný rádiový přenos, který umožňuje přenos signálu i přes zeď či železnou konstrukci
skutečně diverzitní, ne jenom dvě antény "na oko". S mikrofonem se můžete nerušeně pohybovat
mikrofony podléhají všeobecnému povolení ČTÚ a jsou tomuto úřadu ohlášeny
nízká spotřeba baterií v bezdrátovém mikrofonu, žádná levná konstrukce, kde baterky vydrží jen 3 hodiny
srozumitelné ovládání, které zvládne i laik, nepotřebujete zvukaře
nízkošumový výstup
kvalitně provedené konektory
nastavení bezdrátového mikrofonu zůstává uloženo i po vypnutí napájení, není potřeba mikrofon znovu nastavovat
včetně transportního kovového kufru pro bezdrátový mikrofon. Žádná obyčejná papírová krabička. Nemusíte již žádný kufr dokupovat
Accessories recomended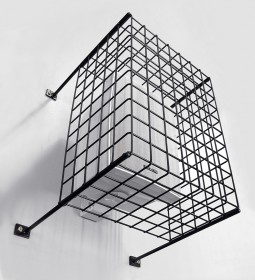 steel construction, round rods dia. 4 and 11 mm, mesh grid 50×50 mm, 373×523×426 mm
Suitable for: protection of speakers SP 8xx, BC 8xx and others with 8& Prime; loudspeaker, eg against ball in gym
New
