RP 110×110 + JPM 2021 set – active ceiling Bluetooth speakers
Brief description: plastic, HiFi, 2 × 20 W / 8 Ω, 86 dB, 50 – 20 000 Hz, with square front grill, 251 × 251 mm, Mica cone, silk dome, crossover, stereo amplifier, and Bluetooth receiver built-in the speaker, playing directly from smart phone, laptop or tablet
Suitable for: installation in the ceilings and walls, quality public address sound
Cat. nr.: 210062
189,28 € with VAT
in stock
Description
Není nic jednoduššího, než do stropu instalovat dva podhledové reproduktory, jeden z nich připojit k napájecímu adaptéru, reproduktory propojit mezi sebou a začít přehrávat hudbu přes Bluetooth. Instalace je opravdu velice snadná. A co je výhodou, není potřeba žádného dalšího zesilovače, žádného přehrávače ani signálového propoje na stávající hifi aparaturu. Hudbu prostě přehráváme přímo z chytrého telefonu, tabletu nebo notebooku, přes Bluetooth spojení.
Sada vždy obsahuje 2 pasivní reproduktory, zesilovač JPM 2021 s Bluetooth konektivitou, napájecí adaptér, reproduktorovou dvoulinku. Propojení je snadné – reproduktor se zesilovačem na napájecí adaptér + propojení mezi reproduktory. Žádná další instalace není potřeba. Zesilovač lze také upevnit přímo na magnet reproduktoru.
Parametry samotného zesilovače s Bluetooth přijímačem JPM 2021
Zesilovač JPM 2021 je dalším zařízením, kterým se snažíme zjednodušit lokální ozvučení, tedy případy kdy chceme snadno nabudit dva reproduktory, neřešit složitou kabeláž a nepřemýšlet nad zdrojem hudby.
JPM 2021 je kompaktním zesilovačem, který se instaluje vedle nebo přímo na podhledový reproduktor (budí dva), propojení k reproduktorům je tak krátké a snadné. Dalším, a to již posledním propojením, je pouze napájení z adaptéru. Naprosto posledním krokem je Bluetooth spárování se smartphonem, tabletem nebo notebookem a můžeme začít vysílat hudbu do reproduktorů. Máme tak vyřešeno zesílení i zdroj hudby a to vše skrytě.
stereo zesilovač 2× 20 W
zatěžovací impedance 2× 4 nebo 8 Ω
zesilovač ve třídě D s vysokou účinností 85 %
zcela pasivní chlazení
bezhlučné provedení
automatické změření a přizpůsobení se zatěžovací impedanci
výkonový výstup na 2 reproduktory přes svorkovnici
vestavěný Bluetooth receiver, pro snadné přehrávání z chytrého telefonu nebo tabletu
podpora Bluetooth ver. 4.1 + EDR
indikace napájení pomocí LED
indikace spárování s Bluetooth vysílacím zařízením pomocí zvukového signálu do reproduktorů
přímé Bluetooth spojení bez hesla
dosah Bluetooth spojení cca 10 m
výkonový vstup pro připojení dalšího zdroje hudby, např. jiného zdroje hudby ze zesilovače z vedlejšího pokoje. Zde tedy připojujeme reproduktorový výstup ext. zesilovače
výkonový vstup i výstup proveden svorkovnicí
výstupní ochrany proti zkratu, nadměrnému zatížení nebo přehřátí
frekvenční rozsah 20 – 20 000 Hz / – 3 dB
odstup S/N > 74 dB
zkreslení THD < 0,2 % / 1 kHz, 7W
napájení spínaným adaptérem AC 110 – 240 V / 50 Hz / DC 15 V (je součástí)
standby režim šetřící el. energii
automatické přepínání na výkonový výstup externího zesilovače. Není-li vysílán signál přes Bluetooth, JPM 2021 přepne na "poslouchání" výkonového (reproduktorového) výstupu ext. zesilovače
kompaktní provedení. Zesilovač doporučujeme instalovat na zeď, do příčky, díky kulatému tvaru je možné zesilovač přichytit také přímo na magnet podhledového reproduktoru. K tomu slouží velká kruhová samolepka, jež se nachází na těle zesilovače. Žádný další instalační materiál není potřeba.
černý plast
kovové stínění pro omezení vlivu magnetického pole z reproduktoru na zesilovač
doporučujeme kombinovat s ozvučením pomocí 2 podhledových reproduktorů Dexon RP xxx nebo 2 nástěnných reproduktorů Dexon SP xxx v nízkoimpedančním režimu (ne se 100V transformátorem)
vhodné pro ozvučení koupelny, pokoje a dalších místností
potřebná kabeláž: napájení adaptérem (230 V zásuvka), 2× reproduktory (repro dvoulinka 2× 1,5 – 2,5 mm² podle vzdálenosti reproduktorů), audio signál pro výkonový vstup (repro dvoulinka 2× 1,5 – 2,5 mm² podle vzdálenosti reproduktorů a ext. zesilovače)
snadná instalace pomocí šroubků, které jsou součástí balení
napájení DC 12 V adaptérem, je součástí
příkon ve standby režimu (klid) 4,6 W
malé nároky na prostor
rozměry Ø 95×30 mm
hmotnost 0,32 kg
Parametry samotných reproduktorů RP 110×110
Podhledové reproduktory RP 110 a RP 110×110 jsou dalšími do rodiny podhledových reproduktorů, jež jsou určeny pro ozvučení prostor, jako jsou pokoje, kanceláře, firemní, a prodejní prostory, ale také i do prostor částečně vlhkých, jako je koupelna, nebo venkovní zastřešená terasa.
Reproduktory jsou koncipovány jako dvoupásmové s výhybkou. Osadili jsme je kvalitním basovým reproduktorem s Mica membránou a výškovým kalotovým reproduktorem s hedvábnou kalotou. Zajímavým konstrukčním řešením je provedení čelní mřížky, která se přichycuje snadno na vestavené magnety. Za povšimnutí stojí i mechanizmus rychlozatahovacích klapek, kdy k utažení postačí pouze zatlačení na šroub se šroubovicí, jak je popsáno v návodu. Není potřeba obvyklého utahování.
Modely RP 110, RP 110×110 lišící se tvarem mřížky, jsou předurčeny pro tzv. nízkoimpedanční systémy s impedancí 8 Ω, najdou tak uplatnění v méně rozsáhlých ozvučeních, např. v rodinných domech nebo malých provozovnách. Konstrukce je propracovaná, reproduktory jsou výborně konstrukčně zvládnuté a dosahují kvalitního, příjemného zvuku pro podkresovou hudbu i řeč.
basový reproduktor 6,5"
výškový kalotový reproduktor s 25mm KSV kmitací cívkou
výkon rms / max. 50 / 100 W
impedance 8 Ω
ekvivalentní citlivost 86 dB / 1W, 1m
frekvenční rozsah 50 – 20 000 Hz
součástí je čtvercový magnetický rámeček – přední mřížka s minimálním okrajem
magnetický rámeček se uchycuje rychle bez nutnosti šroubování a zacvakávání, což urychluje montáž
výhybka 2 pásmová, 6 dB / oct.
materiál membrány Polypropylen-Mica
materiál koše černý ABS plast
pracovní teplota –25 – +70 °C
způsob uchycení – speciální systém 4 rychlozataho­vacích klapek + magnetické uchycení rámečku
stupeň krytí IP 30
Ø montážního otvoru 215 mm
min. tloušťka stropu 9,5 mm, max. tloušťka stropu 31 mm
rozměry 251×251×79 mm
hmotnost 0,6 kg
doporučená instalace do stropů, stěn, sádrokartonu
Výhody oproti konkurenci
kupujete od skutečného profesionálního výrobce, ne přeprodejce, který se plošným, instalačním ozvučením zabývá více jak 24 let a tak ví, jaká je praxe a nároky
nabízíme vyšší výkon. Konkurence nabízí obvykle jen výkon okolo 10–15 W, s kterým stěží vybudíte běžné ozvučení.
kompaktní a zároveň dostatečně velké provedení zesilovače. Zesilovač jen nacvaknete na magnet reproduktoru a nebude tak překážet. Zároveň je dost velký na to, aby pracoval i ve vyšších teplotách a uchladil se
součástí je napájecí adaptér, rovnou z 230 V. Konkurenční výrobky jsou napájeny z 12 V a tak řešíte, kde 12V zdroj vůbec umístit, aby nepřekážel a byl bezpečný.
vlhkuodolnost. Používáme pravou MICA membránu, ne jen atrapu. Reproduktory vydrží i běžné vlhko koupelny.
minimum práce s instalací. Nic není potřeba šroubovat. Zesilovač se jen nacvakne na magnet reproduktoru a reproduktory samotné se instalují pomocí rychlozatahovacích klapek, bez šroubků a vrtání
sada je určena pro dlouhodobé non-stop užívání, tedy ne receiver či hifi věž na nerázový provoz s nízkou výdrží
moderní obvodová koncepce
srozumitelné ovládání, které zvládne i laik, jež je zvyklý na svůj telefon, nepotřebujete složité zaškolení
"blbuvzdorné" provedení, špatné nastavení nezpůsobí poškození nebo zablokování zesilovače
kompatibilita s reproduktory Dexon. Máme odzkoušeno, že zvuk je, za jejich použití, výborný.
jsou splněny všechny normativní požadavky pro označení CE
Accessories recomended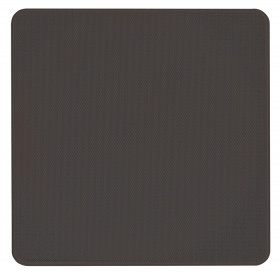 metal, spray color RAL 9005, for magnetic mounting on speaker, 251 × 251 mm
Suitable for: RP 110x110, RPT 110x110 as a color alternative
New

The product is already used in these installations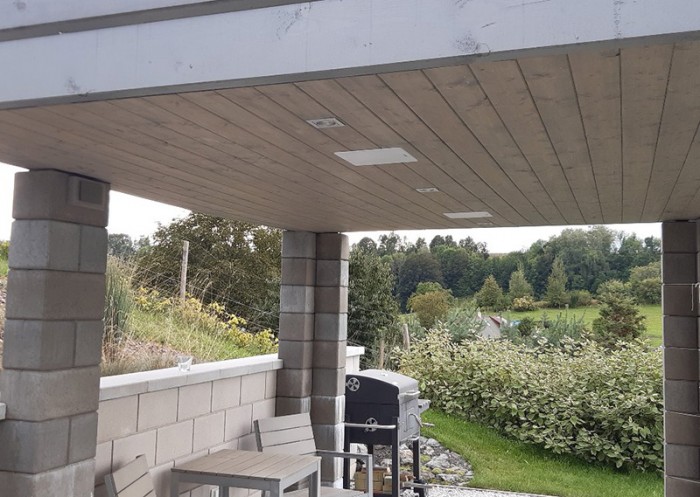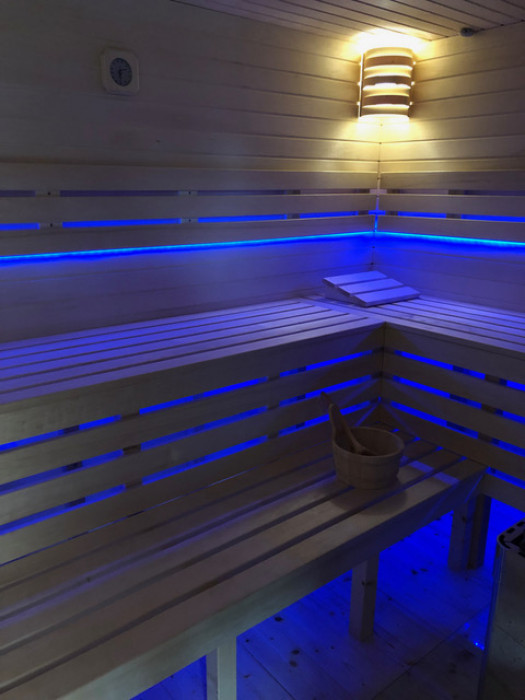 Josef Šín, Tišice
Výherce naši soutěže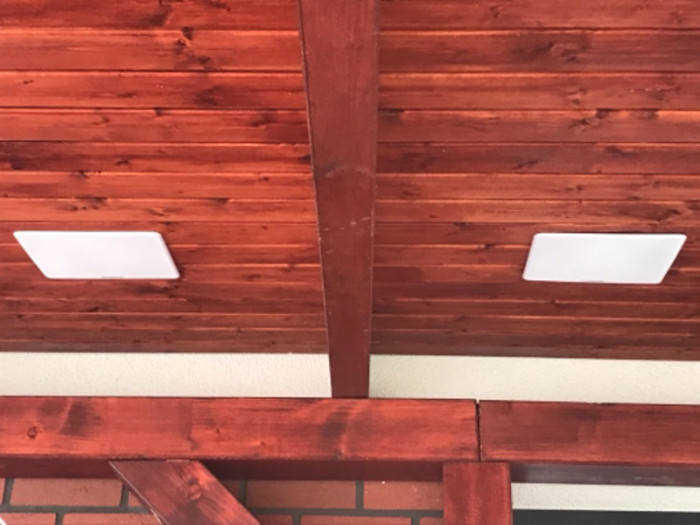 Michal Minařík, Zásmuky
Výherce naši soutěže