SUB 1201A active subwoofer
Brief description: 12″ speaker, bass reflex, 250 / 400 W, 25 – 400 Hz, volume control, crossover, phase invert, auto switching, piano paint, luxury, quality sound
Suitable for: sound apartments, restaurants, shops, hi-fi, home cinema
Cat. nr.: 08 054
599,71 € with VAT
in stock
Description
Aktivní subwoofer SUB 1201A je osazen kvalitním 12" basovým reproduktorem v bassreflexové ozvučnici, a modulem zesilovače s nízkým zkreslením. Disponuje regulací hlasitosti, přeladitelnou výhybkou, invertováním fáze a funkcí automatického sepnutí. Model SUB 1201A je proveden v luxusním lesklém vzhledu s černým klavírním lakem. Přední rámeček s průzvučnou tkaninou lze sejmout.
Subwoofer je možné vůči reprosoustavám HiFi systému, nebo domácího kina, napojit stereofonně, vstupy RCA (Cinch), nebo reproduktorovými vstupy, což je paralelní připojení na stávající reprosoustavy, to zvláště u levnějších receiverů, které nemají RCA linkové výstupy. Napojení je také možné na LFE výstup (subwooferový linkový výstup) receiveru. Zde opět použijeme, již zmiňované, RCA vstupy – levý kanál, přičemž vestavěnou výhybku nastavíme na maximální dělící frekvenci.
Subwoofer přivítají zejména ti, kteří chtějí čisté a konkrétní basy s nízkým zkreslením pro hudbu nebo pro filmy a potřebují opravdu pořádný basový základ. Basy jsou tak povedené, že zvukem budete nadšeni při tichém i velmi hlasitém poslechu. Variabilita připojení, snadné nastavení a především kvalitní zvuk subwoofer předurčuje pro použití v domácích HiFi systémech té nejvyšší kvality, v poctivých systémech domácích kin, ale také jako výborná podpora plošného ozvučení interiérů.
V domácích prostorách nám subwoofer může odehrát pěkně razantní basy a doplnit tak atmosféru sledovaného filmu nebo hudby. V prodejnách, kancelářích, showroomech, restauracích, zasedačkách nebo jiných veřejných prostorách subwoofer poslouží potichu, hudební kulisu zpříjemní a to blahodárně (podvědomě) zapůsobí na návštěvníky. Budou se lépe cítit, bude méně stresu, v prostorách budou chtít zůstat déle. Návštěvník – zákazník bude spokojený a jeho objednávka třeba bude zajímavější.
bassreflexová ozvučnice s 12" reproduktorem
výkon 250 W rms / 400 W max.
nastavitelná aktivní výhybka 50 – 150 Hz se strmostí 18 dB / oct.
regulace hlasitosti
přepínač invertování fáze
spínač funkce automatického zapnutí / vypnutí podle přítomnosti signálu
linkový stereofonní vstup přes konektory RCA Cinch
reproduktorové vstupy se šroubovacími svorkami
paralelní odbočka z reproduktorových vstupů na další reprosoustavy
indikátor zapnutí a standby režimu
basový reproduktor s ocelovým košem, gumovým závěsem a grafitovanou zesílenou membránou
zesilovač ve třídě AB s nízkým zkreslením
odnímatelný rámeček s černou průzvučnou tkaninou
povrchová úprava – černý vysoce lesklý klavírní lak
skříň vyrobená z 22 mm MDF desky
vnitřní výztuhy
plastové robustní nožky
frekvenční rozsah 45 – 200 Hz / –3 dB, 25 – 400 Hz / –6 dB
zkreslení THD + N < 0,03 %
odstup S/N > 80 dB
vstupní citlivost 300 mV / linkový vstup, 4 V / reproduktorový vstup
citlivost audia pro automatické sepnutí 25 mV
čas automatického vypnutí 6 min
napájení AC 230 V / 50 Hz
hmotnost 21 kg
rozměry 390 × 483 × 440 mm
Výhody oproti konkurenci
kupujete od skutečného profesionálního výrobce, který se reprosoustavám věnuje více jak 23 let
černá kombinace, praktická, neunavující
odnímatelný rámeček s průzvučnou tkaninou, který odpoutává dětskou pozornost
nízký dolní mezní kmitočet 25 Hz je dán přirozenými vlastnostmi poctivě provedeného basového reproduktoru. Není použita žádná maskovací elektronika.
zesilovač ve třídě AB s nízkým zkreslením. Jiní výrobci užívají D třídu s vyšším zkreslením, aby ušetřili
kvalitní připojovací svorkovnice, šroubovací, ne jenom pérková
skutečně odměřený příkon RMS dle standardu RMS IEC 268–5, žádná přemrštěná "MAX" hodnota
ozvučnice s tuhou, robustní konstrukcí, žádná tenká DTD, nic nedrnčí
kvalitní zatlumení ozvučnice, ne prázdná dunící skříň
kompatibilní s reprosoustavami i reproduktory pro vestavné ozvučení
možné použití pro hudbu i film při tichém i hlasitém poslechu
Accessories recomended
The product is already used in these installations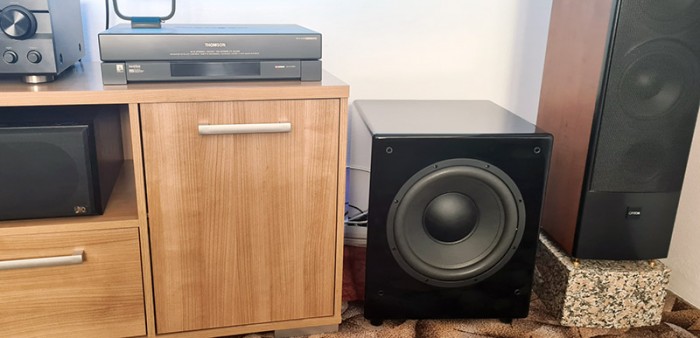 Július Reško, Liberec
Výherce naši soutěže