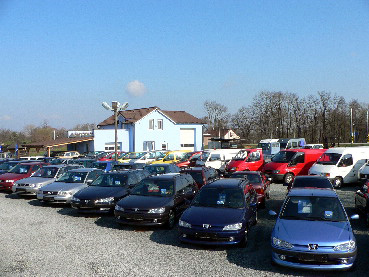 Ozvučení pro parkoviště a autobazary
Tento návrh ozvučení se týká parkoviště, které může být firemní, u prodejny, supermarketu, nebo u restaurace. Hned v prvním kroku se musíme rozhodnout, jaký komfort obsluhy ozvučení budeme požadovat.
Ten jednodušší si vystačí s již existujícím zdrojem hudby, např. firemního ozvučení. Posilující koncový zesilovač JPM 1184 nebo výkonnější JPM 1304 a 1504 zvolíme podle počtu instalovaných reproduktorů. Chceme-li ale větší komfort obsluhy, se směšováním několika hudebních zdrojů (třeba i internetového rádia) a přepážkového mikrofonu PA 570, je lepší zvolit komfortní třízonovou rozhlasovou ústřednu JPA 1185, JPA 1305 nebo šestizónovou JPA 1504
Vše se děje ve 100V režimu, což určuje i volbu napojených reprosoustav, které vzhledem k instalaci na sloupy, musí být vysoce klimaticky odolné. Proto volíme sloupové modely DPT 612 a DPT 614, nebo reentrantní (tlampače) SC 35AH nebo větší SC 60AH.
Venkovní kabeláž musí být provedena samonosným, odolným kabelem, popř. položena v zemi.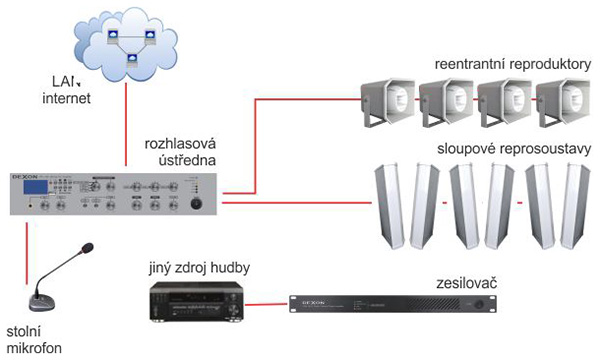 Do you want to accurate this set or to make a price offer?
Our referencies with similar sound system
| | | Date | Amount |
| --- | --- | --- | --- |
| Autoservis Florýk (Prostějov) | Maticové ozvučení, různé signály do různých zón | 1/2019 | 68 900 Kč |
| Autobusový terminál (Blansko) | IP plošné ozvučení, přepážkové ozvučení | 5/2018 | 226 700 Kč |
| Výrobní hala Continental Automotive Systems (Brandýs nad Labem) | IP ozvučení výrobní haly 3 zóny, závěsné reprosoustavy | 5/2014 | 149 000 Kč |
| AAA Auto, a.s. (Praha) | Mobilní ozvučení s řečnickým systémem a akt. repros. | 3/2014 | 40 000 Kč |