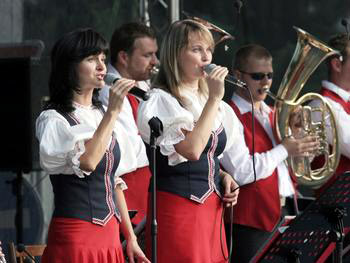 Ozvučení dechovky
I běžná dechovka vyžaduje ozvučení a to obvykle ozvučení zpěváků a některých dechových nástrojů, zejména pak klarinetů a tuby, popř. basové kytary. Pokud dechovka vystupuje na větších prostranstvích (např. mimo kulturní dům) pro více lidí, nazvučují se také tenory. Křídlovky a trumpety se ozvučují minimálně, protože patří v dechovce k těm nejrazantnějším.
Celé ozvučení je postaveno především na dostatečném množství mikrofonů. Zatímco zpěváci si vystačí s drátovými typy, kde doporučujeme model MD 505 instalovaný na řečnickém stojanu, nebo bezdrátovém ručním typu MBD 940, popř. MBC 840 tak u klarinetů doporučujeme sejmutí zvuku pomocí kondenzátorového MC 110 za celou sekci. Pro tubu a tenory doporučujeme mikrofon s klipsnou na husím krku HM 9, který je speciálně určen pro dechové nástroje (trubka, saxofon, horny, atd.). Tyto mikrofony můžeme propojit s bezdrátovými vysílači systému MBD 940 nebo pomocí fantomového zdroje propojit do mixážního pultu (za cenu delšího tenkého káblíku k nástrojům).
Dechové hudby obvykle nemívají vlastního sólo zvukaře a tak i ozvučovací aparatura musí být kabelově a propojením nenáročná. Místo klasické sestavy mixážní pult – výkonový zesilovač (zde bysme doporučili DMC 2440 a DAC xxx) použijeme vše v jednom, tedy výkonový mixážní pult PMS 410. Z tohoto výk. mixážního pultu, slangově řečeno powermixu, budíme přímo pasivní reprosoustavy BC 1000 nebo lépe BC 1200, které jsme instalovali na stojany (trojnožky).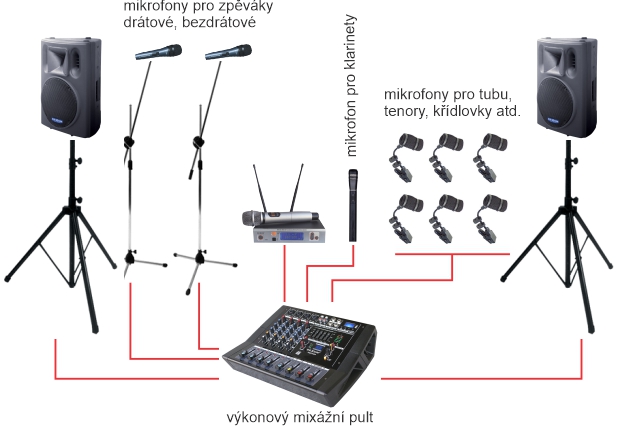 Do you want to accurate this set or to make a price offer?
Our referencies with similar sound system
Taneční sál Domu dětí a mládeže (Rychvald)
06/2020
34 700 Kč
Výkonové profesionální reprosoustavy na držácích a mixážní pult
Taneční studio (Praha - Vršovice)
8/2016
170 500 Kč
Ozvučení několika prostor, vč. mikrofonů a přehrávačů