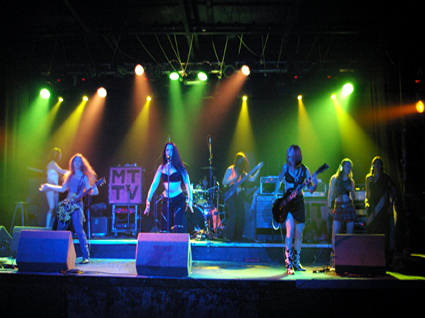 Sound system for a band
Tato sestava je určena kapelám, které hrají obvykle ve větším obsazení a k tomu ve větších sálech, když není externí zvukař s velkou aparaturou.
Doporučujeme výkonné satelitní boxy BC 1200 na tyčích umístěných v subwooferech BCW 1500, které mohou být i zdvojené, dva stereofonní zesilovače Dexon DAC xxxx + aktivní výhybka jež je součástí procesoru Dexon DPC 700, který dvoupásmově dělí frekvenční spektrum + obvykle potřebný equalizér je opět součástí uvedeného procesoru.
Sestava je variabilní. Půjde-li hrát pouze část kapely na menší akci, jednoduše vezmete pouze jeden zesilovač a reprosoustavy BC 1200. K směšování signálu by jste měli použít mix pult DMC 2440 anebo větší, dále by neměly chybět mikrofony, a to i bezdrátové, kabely, efektová zařízení atd.
Je-li kapela skutečně "velká" a vyžaduje ozvučení větších prostor s větším akustickým tlakem, doporučujeme místo BC 1200 použít výkonnější BC 1500, nebo zvýšit jejich počet, a dále počet subwooferů také samozřejmě navyšovat.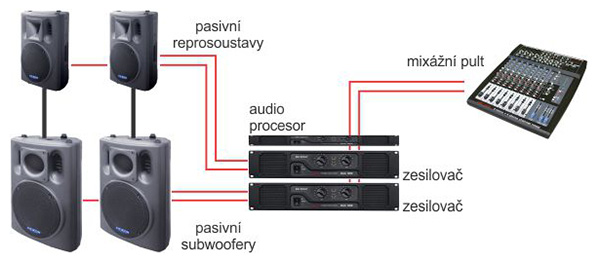 Do you want to accurate this set or to make a price offer?
Our referencies with similar sound system
Zajíček na koni, o.p.s. (Praha)
11/2020
27 500 Kč
Mobilní výkonová ozvučovací sestava s reprosoustavami řady BC, bezdrátovým mikrofonem a přehrávačem. Tato společnost poskytuje své služby rodinám a zařízením pečujícím o děti a mladistvé znevýhodněných skupin obyvatel (tělesný, mentální, nebo sociokulturní handicap)
Taneční sál Domu dětí a mládeže (Rychvald)
06/2020
34 700 Kč
Výkonové profesionální reprosoustavy na držácích a mixážní pult
Taneční studio (Praha - Vršovice)
8/2016
170 500 Kč
Ozvučení několika prostor, vč. mikrofonů a přehrávačů