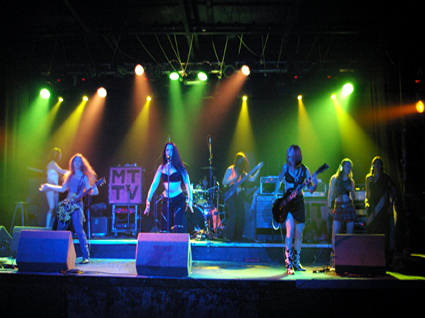 Ozvučení velké kapely
Tato sestava je určena kapelám, které hrají obvykle ve větším obsazení a k tomu ve větších sálech, např. kulturních domech – kapacita okolo 300 lidí.
Výkonné satelitní boxy BC 1200 na tyčích umístěných v subwooferech BCW 1500, které mohou být i zdvojené, dva stereofonní zesilovače Dexon DAC xxxx + aktivní výhybka jež je součástí procesoru Dexon DPC 700, který dvoupásmově dělí frekvenční spektrum + obvykle potřebný equalizér je opět součástí uvedeného procesoru. V neposlední řadě doporučujeme zvukový procesor DPC 550, který z vašeho živého vystoupení vytáhne ten nejlepší zvuk, Vám splní Vaše očekáváni.
Sestava je variabilní. Půjde-li hrát pouze část kapely na menší akci, jednoduše vezmete pouze jeden zesilovač a reprosoustavy BC 1200. K směšování signálu by jste měli použít mix pult DMC 2440 anebo větší, dále by neměly chybět mikrofony, a to i bezdrátové, kabely, efektová zařízení atd.
Je-li kapela skutečně "velká" a vyžaduje ozvučení větších prostor s větším akustickým tlakem, doporučujeme místo BC a BCW reprosoustav použít robustnější a výkonnější satelitní reprosoustavy BA 1000, nebo větší BA 1200, doplněnými o subwoofery BAW 1800. Satelitní reprosoustavy je možno zavěšovat, a to i v systému line-array.
I tyto systémy, český výrobce DEXON, navrhuje a nabízí. Pro zpracování návrhu ozvučení doporučujeme kontaktovat Dexon Czech s.r.o. na jejich stránkách www.dexon.cz nebo na tel. 596 321 160. Tento český výrobce posoudí ozvučovaný prostor a kompletně navrhne dané ozvučení zcela zdarma.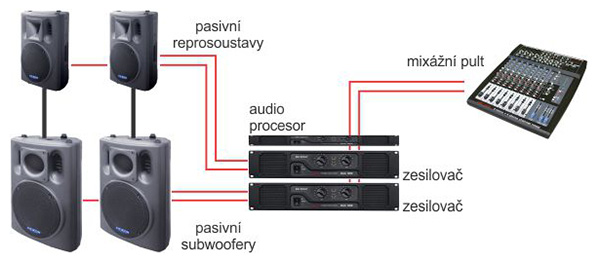 Do you want to accurate this set or to make a price offer?
Our referencies with similar sound system
| | | Date | Amount |
| --- | --- | --- | --- |
| Taneční studio (Praha - Vršovice) | Ozvučení několika prostor, vč. mikrofonů a přehrávačů | 8/2016 | 170 500 Kč |
| Kulturní a společenský klub (Hradec Králové) | Evakuační rozhlas vč. reproduktorů | 9/2016 | 181 800 Kč |
| Ozvučení Arény Karviná (Karviná) | Výkonné ozvučení prosotr hudebního klubu vč. buzení | 6/2015 | 268 060 Kč |
| Jezdecký klub (Liberec) | Reentrantní rerpoduktory a rozhlas. ústředna | 10/2014 | 87 000 Kč |
| Ozvučení tanečních sálů v ZŠ (Liberec) | Výkonové ozvučení prof. reprosoustavami a zesilovači | 7/2014 | 89 000 Kč |