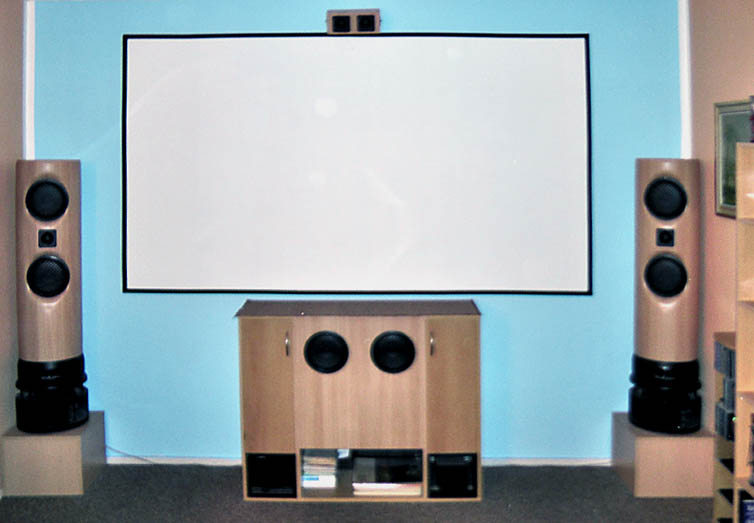 Netradiční hifi reprosoustavy s BRB 12"/300/01,8, ARZ 6604 a GDWT 9/80/5F,4
Dobrý den,
posílám foto mého domácího kina.
Stručný popis: Skříně jsou vytvarovány za tepla z novodurových odpadních potrubí o průměru 32 cm, pomocí přípravku. Pro dodré tlumení je celý vnitřní prostor vylepen kobercem jekor. basový reproduktor je umístěn ve spodní části a vyzařuje proti plexisklovému kuželi. Středové reproduktory jsou odděleny příčkou a jejich prostor je zcela vyplněn buničitou vatou. Jako basový reproduktor byl použit BRB12"/300/01,8 ,středy osazeny dvěma reproduktory ARZ 6604 a výšky GDWT 9/80/5F4,vše z vaší dodávky.
Noha každé bedny obsahuje zesilovač 2×100W. Jeden zesilovač je bez vyhýbky zapojen "natvrdo "na basový reproduktor. Druhý "natvrdo" na sředové paralelně zapojené reprduktory. Výškový reproduktor je připojen ke středovým reproduktorům přes jednoduchou vyhýbku tvořenou kondenzátory. Středová bedna je zhotovena z bývalé knihovničky vyztužené dřevěnými hranolky. Basový reproduktor vyzařuje do spodní odkryté části. Ve spodní části je umístěn zesilovač 2× 100W. Výškové reproduktory jsou umístěny nad projekční plochou, pro subjektivní pocit zvuku vycházejícího z obrazu.
Jak to vypadalo v mém obýváku dočasně neobyvatelném znázorňuje druhé foto. Vpozadí za řadou nových beden jsou mé původní stopadesáti litrové bedny,na kterých dosud hraje moje dcera. Beden jsem vyrobil celkem osm, čtyři putovaly k mému synovci. Funguje to bezvadně.
Srdečně zdravím a přeji hezký den!
Jaroslav Knápek, Olomouc
Tato ukázka byla odměněna v naši soutěži a výherce tak získává hodnotné ceny. Gratulujeme!