SP 412 speaker with handle black
Brief description: 25 W / 100 V, 40 W / 8 Ω, 87 dB, 75 – 20 000 Hz, handle, 4″ polypropylene woofer, 20 mm textile dome tweeter
Suitable for: wall installation in the interior, for sounding commercial places, shops, restaurants, bars, offices, administrative places, hotels
Cat. nr.: 03 454
175,89 € with VAT
in stock
Product video
Stay updated and get valuable tips from our channel.
Description
Reprosoustavy řady SP patří mezi dlouhodobé modely v našem sortimentu. V referencích naleznete jejich instalace na různorodá místa, od interiérů až po zastřešené exteriéry, např. v restauracích, prodejnách, kancelářích, hotelích, penzionech a také často v domácím prostředí. Svým typickým vzhledem, který je mírně zakulacený, výborně doplňují interiér, ovšem na druhou stranu ho ani nijak nenarušují. Od konkurence se právě tímto odlišují a jejich dlouhodobá existence na trhu potvrzuje, že jsou to praktické modely.
Instalace reprosoustav se provádí pomocí vestavěné konzoly, díky které můžete reprosoustavu naklonit a zároveň v této pozici zafixovat. Oba modely, mají-li vestavěný převodní transformátor, je možné přepínat a určovat tak, zda budou připojeny na vysokoimpedanční systém 100 V a v jakým příkonem a tedy hlasitostí, nebo zda budou připojeny na nízkoimpedanční systém 8 Ω. Přepínač naleznete pod plastovou krytkou z boku reprosoustavy.
Zvukově vás řada SP mile překvapí. Byť reprosoustavy patří k těm menším (model SP 412 je menší a SP 512 je větší), je podání nízkých frekvencí pro výše zmíněné účely, více než dostatečné. Střední pásmo s vyšším je vyvážené. Ve výsledku má reprosoustava univerzální zvukový charakter a hodí se tak, jak pro reprodukci hudby, tak i pro srozumitelnou reprodukci řeči. Model SP 512, oproti modelu SP 412, samozřejmě fyzikálně lépe reprodukuje nižší kmitočty a má vyšší výkon i citlivost. Pro vellmi náročné a rozlehlé prostory, je možné reprosoustavy doplnit subwooferem.
vlhkuodolná bassreflexová ozvučnice z ABS
20 mm výškový reproduktor s textilní kalotou
4" basový reproduktor s polypropylenovou membránou
výkon samotného reproduktoru 40 / 70 W / 8 Ω
výkon reprosoustavy 25 – 20 – 10 – 5 W / 100 V + 40 W / 8 Ω
možné připojení na vysokoimpedanční rozvod 100 V, nebo na nízkoimpedanční rozvod 8 Ω
vestavěný převodní 100V transformátor
přepínač výkonu / typu připojení
frekvenční rozsah 75 – 20 000 Hz / – 10 dB
citlivost 87 dB / 1W, 1m
dělící frekvence výhybky 3 500 Hz / 6 dB / oct.
konzola s možností naklonění reprosoustavy
pérková připojovací svorkovnice
baleno jako pár reprosoustav
vhodné pro interiéry i exteriéry
stupeň krytí IP 43
pracovní teplota –15 – 50 °C
rozměry 145 × 212 × 172 mm
hmotnost 1,45 kg
Accessories recomended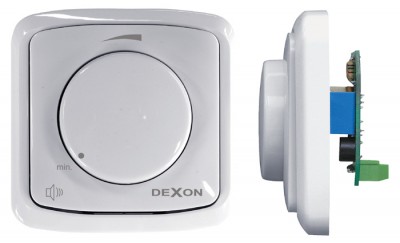 4 and 3 wire NUC. listening, 10 W, 11 positions, a total shutdown, design ABB Tango, the entire controller
Suitable for: sounding systems in the interior
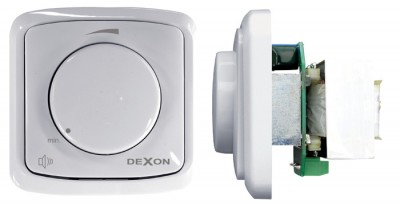 4 wire, 30 W, 11 positions, the entire controller, design ABB Tango
Suitable for: sounding systems in the interior


special cable for 100 V line speaker systems, 2 × 1.5 mm², CCA copper, twisted core wires, low capacity
Suitable for: connection of amplifier central, amplifier, and speakers in 100 V line system

The product is already used in these installations