CSP 220A sound projector active with Bluetooth
Brief description: 2 × 20 W, 100 – 16 000 Hz, D class amplifier with high efficiency, Bluetooth, power output to the next speaker
Suitable for: local sounding, sounding of both interiors and partly protected exterior, sound on car roof, sales windows, cash desks, fast foods, services, health care, entertainment attractions, industry, office administration, state administration
Cat. nr.: 210004
220,99 € with VAT
on request
Description
Aktivní zvukový projektor CSP 220A cílí na instalace, kde potřebujeme jednoduché ozvučení jedním nebo dvěma reproduktory, zvuk potřebujeme nasměrovat a nechceme řešit signálovou kabeláž. Výrobek je proto konstruován jako aktivní s bezdrátovým připojením formou Bluetooth konektivity. Uvnitř má vestaven zesilovač JPM 2021 o výkonu 2 × 20 W. Na zadní straně je opatřen kabelovým vývodem pro případné napojení dalšího reproduktoru.
Instalace reproduktoru je rychlá. Reproduktor upevníme pomocí vestavěné konzoly a přivedeme napájení pro adaptér. Naprosto posledním krokem je Bluetooth spárování se smartphonem, tabletem nebo notebookem a můžeme začít vysílat hudbu nebo hlášení. Máme tak vyřešeno zesílení i zdroj signálu a to vše skrytě.
Velice praktickým příslušenstvím je aplikace (zdarma) Dexon Audio Message Player. Je to přehrávač audio hlášení s bohatými možnostmi nastavení a nahrání vlastních hlášení. Přehrávání je rychlé – na jeden klik.
Snad nejtypičtější použití kombinace aktivní zvukový projektor + aplikace, je u rychlých občerstvení, kde obsluha prodejního okénka musí neustále vykřikovat "Hranolky!", "Hamburger!", "Káva!", nebo u lékařů, kde sestřička opakovaně křičí "Další prosím!". Stejně tak si použití aplikace představíme u státní správy, na úřadech, u prodeje vstupenek, u různých zábavních atrakcí atp. Tedy všude tam, kde se hlášení, či chcete-li, pokyny, neustále opakují a kde holt chceme ušetřit hlasivky obsluze.
vestavěný stereo zesilovač 2× 20 W
6.5" širokopásmový reproduktor
zesilovač ve třídě D s vysokou účinností 85 %
zcela pasivní chlazení
bezhlučné provedení
vestavěný Bluetooth receiver, pro snadné přehrávání z chytrého telefonu nebo tabletu
podpora Bluetooth ver. 4.1 + EDR
indikace spárování s Bluetooth vysílacím zařízením pomocí zvukového signálu do reproduktorů
přímé Bluetooth spojení bez hesla
dosah Bluetooth spojení cca 10 m
výkonový kabelový výstup pro připojení dalšího reproduktoru
výstupní ochrany proti zkratu, nadměrnému zatížení nebo přehřátí
frekvenční rozsah 100 – 16 000 Hz
citlivost samotného reproduktoru 94 dB / 1W, 1m
odstup S/N > 74 dB
zkreslení THD < 0,2 % / 1 kHz, 7W
krytí IP 44
ozvučnice vyrobena z houževnatého plastu
bílá barva, ochranná mřížka
napájení spínaným adaptérem AC 110 – 240 V / 50 Hz / DC 15 V (je součástí)
standby režim šetřící el. energii
příkon ve standby režimu (klid) 4,6 W
jako zdroj hudby nebo hlášení lze použít tablet, smartphone nebo notebook, kde aktivujeme vysílání přes Bluetooth
doporučujeme kombinovat s aplikací Dexon Audio Message Player, která je zdarma a umožňuje rychlé vysílat nahraná hlášení na jeden klik
vestavěný držák s možností nasměrování
rozměry Ø 180 × 251 mm
hmotnost 2,1 kg
Accessories recomended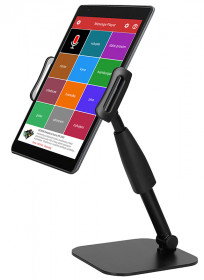 height 220 – 295 mm, 2 types of spring holders, tilting, turning, tightening mechanism, stable design, non-slip
Suitable for: desktop installation of smartphone or tablet, counter, office, teaching
New
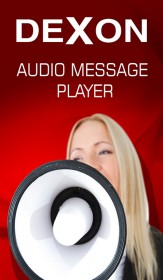 play on one click, microphone fot on-line annoucement, easy and fast operation, 3 playback modes incl. queue, record of your own audio message or using a Mp3 file, comfort set-ups, for Android platform
Suitable for: sales windows, cash desks, fast foods, services, health care, entertainment attractions, industry, administration, state administration
