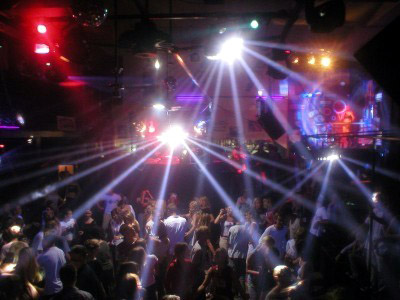 Vybavení hudebních klubů a diskoték
Ozvučení klubu má svá specifika. Především ozvučovací systém musí být univerzální a musí být připraven jak na reprodukovanou hudbu, tak i na živá kulturní vystoupení.
Předpokládáme, že 4 pasivní satelitní boxy BC 1200 jsou umístěny na rampách a 2 již aktivní subwoofery BCW 1500A jsou umístěny klasicky na zemi. Takto vznikající ozvučení vyniká vysokou hladinou hlasitosti, ale zároveň srozumitelností a nízkým zkreslením. Tím, že satelitní boxy správného počtu jsou patřičně upevněny na držácích a nasměrovány, dosáhnete toho, že mimo parket je relativně nízká hladina hlasitosti – to je velmi žádoucí.
Je-li hudební klub či doskotéka skutečně "velká" a vyžaduje ozvučení větších prostor s větším akustickým tlakem, doporučujeme zvyšovat počet jak satelitních reprosoustav, tak i subwooferů. Bývá žádoucí i použití pasivní verze subwooferu BCW 1500.
Satelitní boxy jsou buzeny z nejsilnějšího zesilovače DAC xxx, a subwoofer je napojen přímo na DJ mixážní pult, obvykle na sběrnici room, alt nebo sub. Tento výstup nemusí být frekvenčně omezován, neboť subwoofer má výhybku pro sebe již zabudovanou (platí pro aktivní verzi).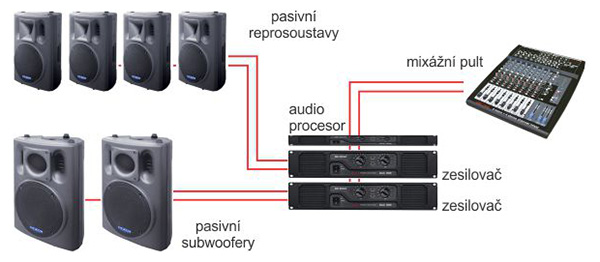 Do you want to accurate this set or to make a price offer?
Our referencies with similar sound system
| | | Date | Amount |
| --- | --- | --- | --- |
| Zimní stadion - Hokejový Klub Lev (Slaný) | Výkonové ozvučení s profesionálními reprosoustavami, mikrofony a mix. konzolami | 6/2019 | 201 800 Kč |
| Taneční studio (Praha - Vršovice) | Ozvučení několika prostor, vč. mikrofonů a přehrávačů | 8/2016 | 170 500 Kč |
| Kulturní a společenský klub (Hradec Králové) | Evakuační rozhlas vč. reproduktorů | 9/2016 | 181 800 Kč |
| Ozvučení Arény Karviná (Karviná) | Výkonné ozvučení prosotr hudebního klubu vč. buzení | 6/2015 | 268 060 Kč |